Chew Valley School Society (PTA)
The Chew Valley School Society (PTA) is a group of parents, teachers, staff and friends of the school who raise money to support Chew Valley School and its students. The committee meet regularly to organise fundraising events as well as providing support and refreshments at events such as the new intake parents' evening and Christmas Carol Concert. The Society is well supported by parents but so that it can continue to provide financial support to the school and students, which is essential for the continued success of the school in the current financial climate, we welcome more parents and the wider Chew Valley community and businesses getting involved with the committee and attending our events.
Dates for the diary
Quiz Night - To be scheduled
Will your team be champions? Unwind with a group of friends on Friday night. Dinner included and refreshments available.
Newsletters
Chew Valley School Society July 2019
In 2019/2020 we were supporting the school by:
Sixth Form Wellbeing Sessions
History Visualiser
Counselling
Horticultural Supplies
Laptops
Sports Equipment
SEN Equipment
If you are interested in assisting the School Society (formally or informally), please contact cvschoolsociety@outlook.com
| | |
| --- | --- |
| CHAIR | Penny Rowlands |
| VICE CHAIR | Katie Kingdon |
| SECRETARY | To be appointed |
| TREASURER | Wendy Sims |
| VICE TREASURER | Deborah Elsom |
| COMMITTEE MEMBERS | Caroline Perrett, Angela Cruse, Gen Moat, Nicki Taber, Sarah Warburton, Amy Clipson, Lu Willson, Kate Miller. |
Next Meeting - To be advised - All welcome
Please contact us at cvschoolsociety@outlook.com if you are interested in attending.
Past meetings minutes
Financial Support for the School
The School is very grateful to parents and others who contribute to the School Society and their work which financially supports the school on various projects which otherwise could not happen.
The Chew Valley School Society has come up with different ways in which you can help.
WELCOME TO OUR LOTTERY

The 500 Club lottery is a great way for you to support us whilst having a bit of a flutter! Sign up and you could be the next winner!
Please find the application form here
This lottery is licensed by Bath and North East Somerset.
Easy Fundraising
This is a way of donating without spending any extra money. You shop as you would normally on line, but go via you easy Fundraising account. Our aim is to get 200 people registered and raise £2000 a year in this way. Imagine if all our parents, grandparents, uncles and aunts signed up! Just register at www.easyfundraising.org.uk and use the reminders to remember to use Easy Fundraising whilst you shop and tell other parents.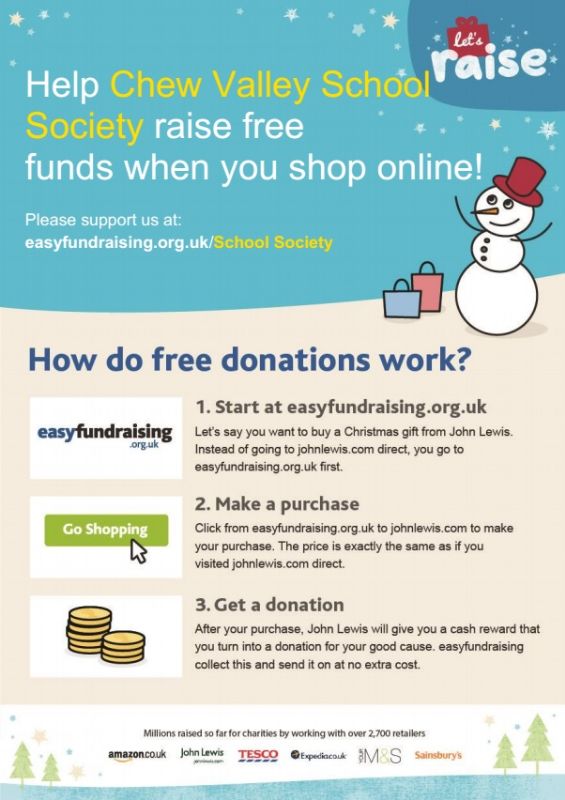 Amazon Smile
Another easy way of donating without spending. Amazon make a donation to us every time you spend through smile.amazon.co.uk
Please find our charity name 'Chew Valley School Society'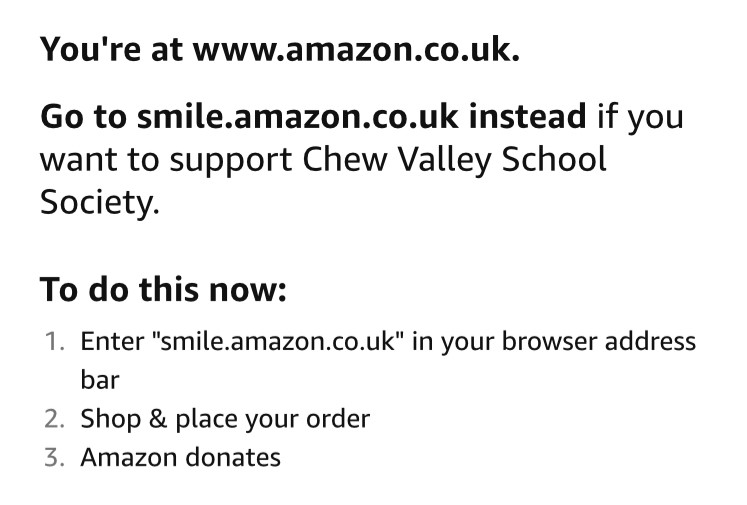 Text Donation
We know that parents are incredibly busy and often can't get to fund-raising events at school. Would you feel better about that if you were able to make a donation anyway?! Text CVSS to 70085 to donate £5. If you would like to donate a different amount text CVSS 10 (or any value between 1 and 20) to 70085. If you wish to donate more, please send multiple texts.
Texts cost the value of your donation plus your standard network rate.
Standing Order
Some parents are able to be very generous and use standing orders to support various charities including the school. Might you be able to make a regular monthly donation to the school? A small monthly donation (with the Gift Aid it will attract if you are a tax payer) will really add up. A form is attached if you feel able to support us in this way.
Gift Aid
Whichever way you choose to help the school, it is very important to register for Gift Aid. Whether you are able to give anything today or not, please fill in the attached Gift Aid Form and return it to the school so we can keep you registered for any future donation you are able to make.
Employers Match Funding
Do you work for a large employer? If you do, speak to your HR department and see if they offer match funding for schools. Wouldn't it be great if all or some of the money we raise for band and quiz nights was matched by our parents' employers? For further info www.pta.co.uk/funding/faqs-match-funding Thank you.
Thank you for the fantastic support you give to Chew Valley School to support them in providing an outstanding education for our children.
Get reading!
e with guidance published in October 2007, the governors have satisfied themselves that our school uniform is fair, reasonable, affordable and does not act as a barrier to parents when choosing the school. At least two suppliers will be appointed to avoid restricted competition.
PLEASE NOTE
Although every reasonable care is taken, the school cannot be responsible for personal property and possessions brought into school. It would, therefore, be helpful if the following was noted:-
(a) Pupils should keep their property in a strong bag/holdall/backpack.
(b) All items should be clearly marked with the child's name
(c) iPods, cameras and other valuable possessions should not be brought into school.
(d) Mobile phones are a particular nuisance and are not necessary in school. We have a telephone available for students should they need to contact home. Please support us by making sure that your son or daughter does not bring a mobile phone to school.